Dr. Shamim Ahmed Khan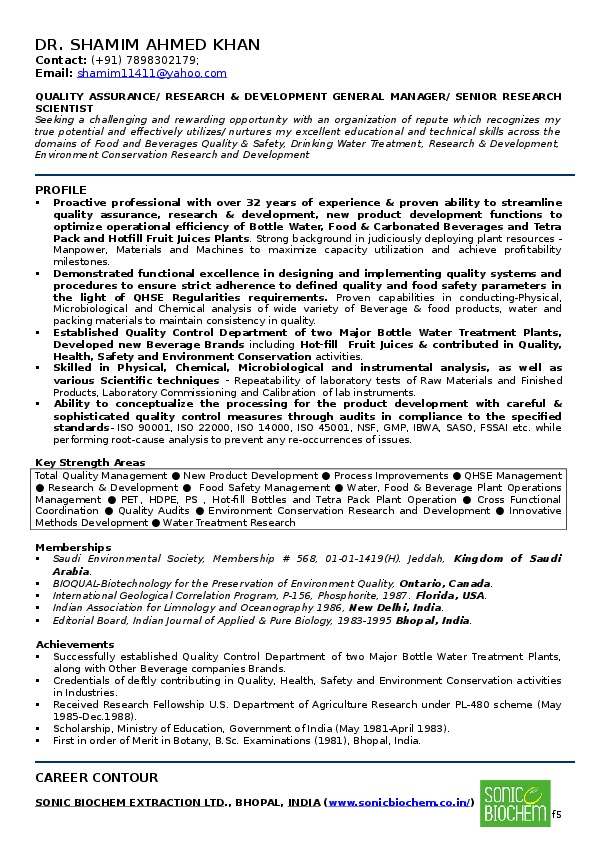 Proactive professional with over 32 years of experience & proven ability to streamline quality assurance, research & development, new product development functions to optimize operational efficiency of Bottle Water, Food & Carbonated Beverages and Tetra Pack and Hotfill Fruit Juices Plants . Strong background in judiciously deploying plant resources - Manpower, Materials and Machines to maximize capacity utilization and achieve profitability milestones.

Demonstrated functional excellence in designing and implementing quality systems and procedures to ensure strict adherence to defined quality and food safety parameters in the light of QHSE Regularities requirements. Proven capabilities in conducting-Physical, Microbiological and Chemical analysis of wide variety of Beverage & food products, water and packing materials to maintain consistency in quality.

Established Quality Control Department of two Major Bottle Water Treatment Plants, Developed new Beverage Brands including Hot-fill Fruit Juices & contributed in Quality, Health, Safety and Environment Conservation activities.

Skilled in Physical, Chemical, Microbiological and instrumental analysis, as well as various Scientific techniques - Repeatability of laboratory tests of Raw Materials and Finished Products, Laboratory Commissioning and Calibration of lab instruments.

Ability to conceptualize the processing for the product development with careful & sophisticated quality control measures through audits in compliance to the specified standards - ISO 90001, ISO 22000, ISO 14000, ISO 45001, NSF, GMP, IBWA, SASO, FSSAI etc. while performing root-cause analysis to prevent any re-occurrences of issues.