Ashok kumar, Vice President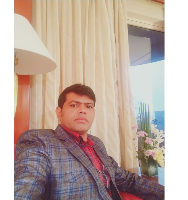 Ashok has almost 14 years experience in sales/Business development, channel development,Launching new company and new product. after MBA (sales and Marketing) in 2006 started working with a yellow pages company after that taking care different roles with different companies like icici lombard,Airtel broadband,EZ Vidya pvt ltd,meracareerguide.com, tata Class edge etc.
In 2016 started his own venture Kalyan agro Products in home care products.currently working with Zygo intellegent auto solutions and Kacen Water pvt ltd.
we as Kacen Water Pvt ltd working for providing safe and healthiest drinking water to everybody with a unique technology in India that can clean and purify water from any source like-Tap,Well,River,Pond etc.
so along with business part we want to make this purifier available for deprived people of society with the help of CSR projects and NGO"S already working for the betterment of society because contaminated water is also killing lakhs of people every year.
Unique Specifications of this technology-
1. No electricity needed
2. no waste of water even a single drop
3. Clean all disease causing microbiological contaminants 99.99% (Bacteria,Virus, Parasites, Oocysts).nobody can do in India
4. Has 22 claims certified to NSF standards.(no one has in India)
5. In 2020 coming with 27 claims certified to NSF standards.(no one in India).
6. Retain all essentials minerals in water.
Waterborne diseases are caused by drinking contaminated or dirty water . Contaminated water can cause many types of diarrheal diseases , including Cholera, and other serious illnesses such as Guinea worm disease , Typhoid, and Dysentery. Water related diseases cause 3.4 million deaths each year.
we want safe and healthiest drinking water access to everyone that's why we need help some dynamic organizations.

Kacen work with OWF foundation USA and Indian Companies (CSR) to give away at least 20 million purifiers to needy in India at FREE of cost worth Rs.6,000 Crores.
so we are looking for some dynamic partners who can help us to achieve our target ......
" HEALTHIEST DRINKING WATER FOR EVERYONE"
Also attaching a file for your reviw
Regards
Ashok Kumar
ashok.kumar@kacenwater.com
+91-9312741407