Scaling UP! H2O Episode 89: The One That's All About Filming Amines (General)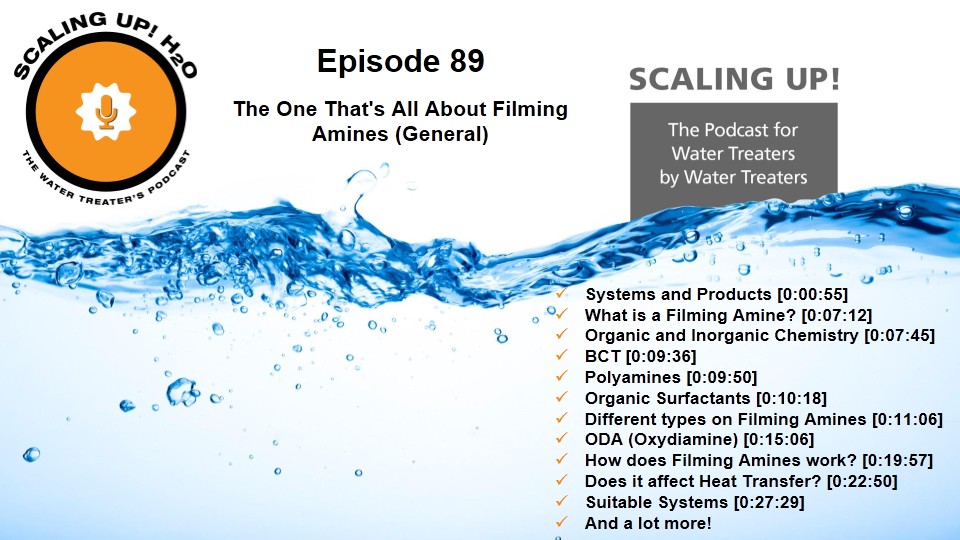 This one is straight from the Scaling UP! H2O mailbag! I have received dozens of questions about filming amines after Episode 80, Filming Amines . In that episode, I shared with the Scaling UP! Nation! the paper I presented at the 2018 Association of Water Technologies Convention and Expo . In fact, after I presented this paper , several people came up to me with question about filming amines. So here is what I think is going on: We water treaters are used to doing our craft in a particular way (the way we are used to.) When we change what we are used to (say using filming amines) some of us get nervous. Scaling UP! H2O to the rescue…
Today's episode was meant to be a one-part episode with WST's Marodi Cribari . However, there was so much information to cover we decided to cover filming amines for the next 3 weeks! Marodi has a great way of explaining us through many of the questions water treaters have. Although she works for WST, she answers our questions in a way that can apply to any supplier that you use.
This week we will be talking about filming amines in general. You will learn how they started and how they came to be used in our water systems. Next week we tackle boilers and the third and final week, we talk about closed loops and cooling towers. I promise that after these episodes you will be well prepared to start your journey into learning more about filming amine technologies. Happy Learning!
More about Marodi Cribari:
Marodi Cribari is a biochemist from Denver, Colorado. She graduated in 2008 from Metropolitan State University of Denver with a degree in biology and chemistry. Early in her career she was a bench chemist developing fluid systems and colloidal particle dispersions. Now she works in water treatment focusing on technical education an product application.
Links Mentioned on this episode: