Measures in Place to Detect Attacks Concerning Industrial Control Networks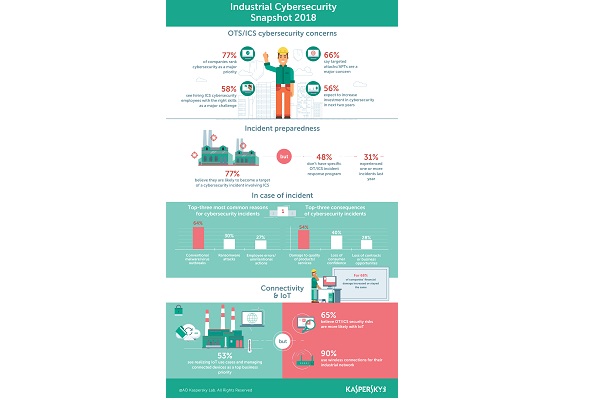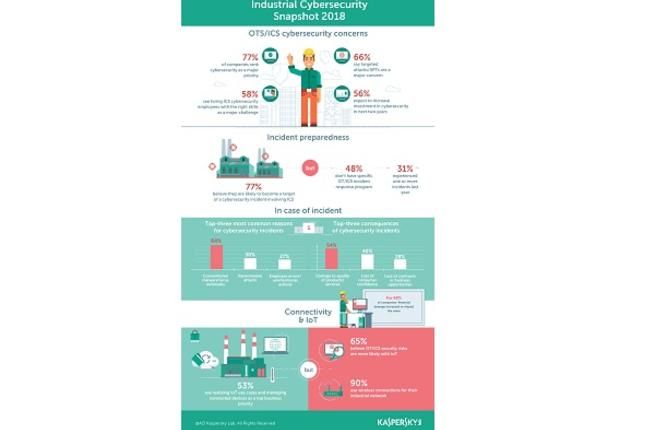 The trend for digitalization, including increased connectivity and IoT, is growing among industrial organizations such as power plants, manufacturers, and water treatment centers, which rely on industrial control systems (ICS) for their operations. It's a trend that comes with acknowledged cybersecurity dangers - 65% of companies believe that ICS security risks are more likely with IoT. Yet, Kaspersky Lab has also unearthed a contradiction among the industrial community. The company has found that many organizations are keen to boost the efficiency of their industrial processes with new IT, and although they are investing in security for their IT networks, they are leaving the doors to their operational technology (OT) wide open. This is allowing basic threats such as ransomware and malware to step right in and catch them out. These, and other findings, have been unveiled today in Kaspersky Lab's 'State of Industrial Cybersecurity 2018' report.
Industrial businesses at a crossroads: automation efficiency vs cybersecurity concerns
The convergence of IT and operational technology (OT), the wider connectivity of OT with external networks, and the growing number of Industrial IoT devices, is helping to boost the efficiency of industrial processes. However, these trends bring growing risks and points of vulnerability, leading industrial organizations to feel unsafe - over three quarters (77%) of companies believe their organization is likely to become the target of a cybersecurity incident involving their industrial control networks.
48 Percent of Organizations Admit They Have No Measures in Place to Detect Attacks Concerning Their Industrial Control Networks