Industry leading approach to clean water for Nickel-Cobalt-Scandium Mining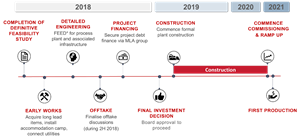 Clean TeQ Holdings Limited ( Clean TeQ or Company ) announced the outcomes of the Definitive Feasibility Study ( DFS or Study ) for the Clean TeQ Sunrise Nickel-Cobalt-Scandium Project ( Clean TeQ Sunrise or Project ). The DFS confirms the Project's potential to become a globally significant supplier of nickel sulphate and cobalt sulphate - critical raw materials required to support the development of the rapidly emerging electric vehicle industry.
Clean TeQ's vision is to empower the clean revolution by applying our proprietary technologies to find better ways to solve the planet's most pressing environmental problems . With the development of the Clean TeQ Sunrise Project, and a fast-growing water treatment business, innovation remains at the core of our philosophy.
Completion of the DFS is an important milestone in the development of Clean TeQ Sunrise, one of the largest greenfield mine development projects in Australia. Utilising Clean TeQ's proprietary Clean-iX® processing technology, the Project has been consciously designed to balance economic returns with industry-leading approaches to the management of occupational health and safety, water use, power consumption and emissions.
Clean TeQ Sunrise Project to generate significant benefits for communities in regional New South Wales
Australia strategically positioned to become a major source of electric vehicle battery raw materials