Industrial Water Treatment: Community & Inspiration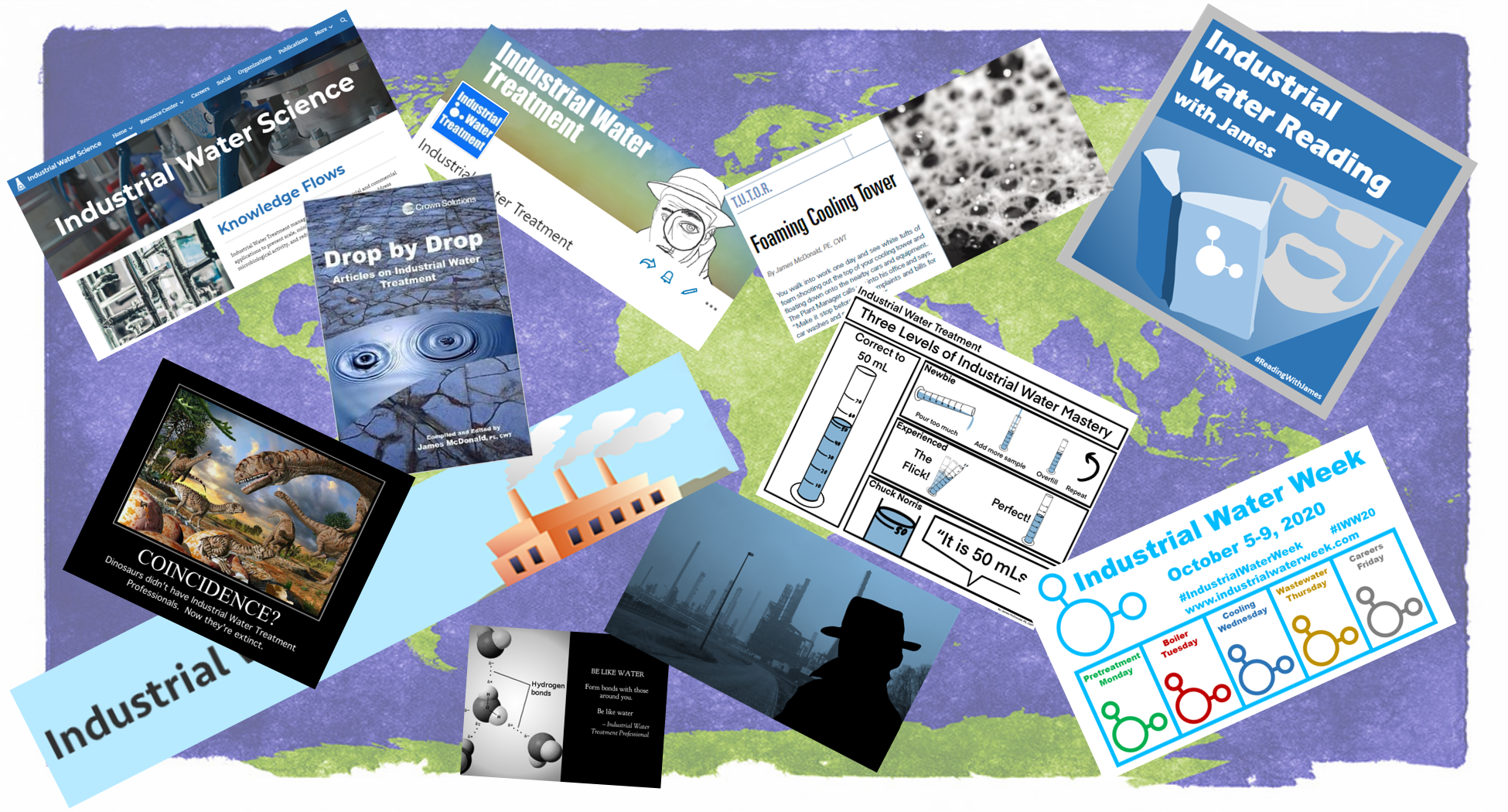 It takes many professions to make the world go around. One such profession is industrial water treatment. With a focus on industrial, institutional, and commercial water applications, the world at large has little idea the profession exists. Families and friends typically have no understanding of what it is. A common saying is you are either born into it or fall into it.
For many, practicing industrial water treatment is a solo act of visiting different customers daily and repeating monthly. For others, it is office based or project based. With such a niche and often solitary profession, how does one stir feelings of community and inspiration? One answer is the internet and social media. With smartphones and computers, the industrial water treatment community can follow Industrial Water Treatment Professionals to the manufacturing facilities, basements, penthouses, or wherever they find themselves.
What follows in this article is the result of a passion for the noble profession of industrial water treatment and the desire to inspire and instill a sense of community. There are many recipes for success, and one that works for social media is persistence, consistence, relevance, and passion.
Cartoon Strip
The Industrial Water Treatment cartoon strip was recently introduced. As a byproduct of the COVID-19 pandemic event and learning an illustration app (Procreate) as a father-daughter project, the cartoon strip was born. Industrial water treatment can be fun. It can be unique. It can also be a lot like the rest of the world. Let's see where this cartoon strip leads us in the future. You can follow the series here: IndustrialWaterTreatmentFun
Reading with James
With a personal goal of expanding industrial water treatment knowledge in 2020 by reading more of what's available on the internet, a reading series was created to share the thought journey. At the risk of sounding egotistical, but with the goal to personalize the initiative, the series was named "Industrial Water Reading with James," or simply "Reading with James." There will be 52 postings total for the year of 2020. Follow #ReadingWithJames on LinkedIn to learn more.
Question of the Day
The Industrial Water Treatment group on LinkedIn was created in 2011 and now boasts nearly 16,000 members from 154 countries with 1,127 Questions of the Day asked. Members from across the globe read and answer the questions posted, sharing experiences, and educating each other. This group has helped instill a sense of community internationally and works hard to keep the forum commercial free. Join the experience by learning more about the Industrial Water Treatment group.
Be Like Water
Water offers may lessons on life and the world around us. The "Be Like Water" meme series connects the unique properties and nature of water with the human experience. Currently, there are 131 "Be Like Water" memes. Each is signed "Industrial Water Treatment Professional" to reflect that the experience is everyone's, not just the author's. Follow the #BeLikeWater hashtag on LinkedIn to see more.
Personal Story : A major engineering firm requested and used a video montage of the Be Like Water memes in a presentation at their annual gathering. Proving what a small world this really is, my cousin was in that gathering. Who would have thought two guys born in the same small town would one day be connected in such a way decades later a thousand miles apart and away from their hometown? That's the power of water.
Detective H2O & Doctor H2O
Industrial water treatment rarely pops up in movies, sitcoms, books, and other genre. It happens (such as seeing cooling towers in "Sharknado" and boilers in "Stranger Things"), but certainly not frequently. People have often compared being an Industrial Water Treatment Professional to being a detective or doctor. There are the crimes of corrosion, scale, water wastage, etc., and it is our job to follow the clues and solve the case! The patient is suffering from hard water leakage, over cycling, etc., and it is our job to diagnose the symptoms and cure the patient! From this was born the series of Detective H20, the "best water treater this side of the Ohio," where personal experiences were fictionalized into the noir series. Later, the Doctor H2O series was created. She's the daughter of Detective H2O and is also the "best water treater this side of the Ohio." They happen to live on opposite sides of the Ohio river. Visit here to read these two series.
Personal Story : I have two children; a boy and a girl. I work hard to expose them to all the wonderful opportunities life has to offer. Thinking about my daughter, I wanted a positive role model for her and those like her in industrial water treatment as well. She was the inspiration for Doctor H2O, daughter of Detective H2O.
Industrial Water Week
What Industrial Water Treatment Professionals do is truly amazing. We should be celebrated! That's where Industrial Water Week comes into play. Each day has a theme: Pretreatment Monday, Boiler Tuesday, Cooling Wednesday, Wastewater Thursday, and Careers Friday. The beauty of the concept is anyone anywhere could celebrate their noble profession however they saw fit. The connection is social media. This year will be the third year of celebrating Industrial Water Week on October 5-9, 2020, the first full business week of October. What a success it has been so far with folks across the world and across organizations celebrating and posting to social media! A favorite video that helped launch the announcement of this holiday was the one where the "Industrial Water Treatment" kids got involved, which you can watch below. Visit the Industrial Water Week website to learn more, and don't forget to celebrate!
Personal Story : During a sad point in life when a very close friend passed away from flu complications in 2018, there was a lot of time to think during a 12-hour drive to her funeral. A welcome distraction was coming up with the idea of Industrial Water Week. The ideas of an Industrial Water Day (too short) and Industrial Water Month (perhaps too long) were tossed around. What seemed just right was Industrial Water Week. From death came life.
Industrial Water Science Website
It is fulfilling to help and inspire people to get into the industrial water treatment profession. Hiring interns and coops helps give the younger generation a taste of the rewarding career options, with many staying for a lifetime. Making others aware of the importance of water in industrial and commercial settings will help them in their later careers as engineers, plant managers, facility managers, etc. To help answer the question of "What is industrial water treatment?" and "How can I learn more?" the Industrial Water Science webpage came into being. On this website, one will find links to tons of free information about what industrial water treatment professionals do: articles, videos, memes, software, certification, trade groups, and so much more. Honestly, it's not just useful for those new to the industry, but for those already within the industry who may not have time to find all this information on their own. It is all in one spot for them. Check out Industrial Water Science here and share this page with those who ask about the industrial water treatment profession.
Drop by Drop: Articles on Industrial Water Treatment
Based upon a career ranging from servicing customers, running pinks and blues, and priming chemical pumps to designing software tools, writing articles, marketing, and beyond, a monthly company newsletter was once published. These were later assembled into a book called "Drop by Drop: Articles on Industrial Water Treatment." The book can be purchased in the AWT bookstore here, plus excerpts from the book often pop in Google searches.
Personal Story : I like to say that every mistake I had made up until publication is in the book. It only took 486 pages.
Memes
Random industrial water thoughts pass through the mind all the time. When they don't fit in any other category, often times the can fit into memes, which are then shared on social media. Following the general hashtag #IndustrialWaterTreatment on LinkedIn will eventually take you to most of them.
The Water Network: Industrial Water
The Water Network started their Industrial Water community on their online platform a couple of years ago. With almost 6,000 members, this was yet another way to share information among Industrial Water Treatment Professionals. Visit the community here.
Personal Story : Admittedly, my postings have dropped off a bit in this forum, but plans are to find a way to fit it back within my weekly habits soon.
Articles
Trade publications are hungry for good things to publish. If you have an idea or an article, reach out to their editorial people and start a dialog. What can you write about? The old adage "write what you know" is the perfect place to start.
Personal Story : My first published article was called "Pretreatment: Breakpoint Chlorination Plays Important Role in RO Pretreatment." While on assignment for three months in Puerto Rico at a pharmaceutical manufacturer, they were having biofouling issues on their tertiary reverse osmosis systems. A fellow engineer had read a study on breakpoint chlorination and suggested I do an analysis on their system. The lessons learned from that experience became this article.
A few articles you may want to check out, based upon personal experiences, are:
Job
It is rewarding when one's passions and occupation are in sync with each other. In my role as Technology & Marketing Manager, I get to help establish my employer as a thought leader in the world of industrial water treatment. When end users search for their water-related problems or interests, it is our hope that our many blogs, infographics, videos, podcasts, articles, technical bulletins, etc. will help them find the answers they seek. While most of the items I've listed in this article deal with the profession of industrial water treatment, these items deal with the nuts and bolts of applying it. The video "Cooling Tower System Basic Operation" has over 118,000 views, which is VIRAL for industrial water treatment. Without trying to be a commercial, if you are interested, check them out.
Conclusions
The items mentioned above have each had varying levels of success. Each and every one has touched at least one person in some way, which is the ultimate goal. Perhaps they learned something new, found a new way to communicate an idea, got a laugh, expanded their network, or even no longer felt alone within our noble profession. Perhaps they have also been inspired to share their own passion in similar or new ways. Regardless, the passion will keep flowing...drop by drop.
Final Personal Story : I heavily edited this article several times. The original version was very first person with lots of "I" and "me" in it. That just wasn't sitting right with me since industrial water treatment is really about "we" and "us." We are all one great, global team. I finally came up with adding Personal Story sections to help keep the rest of the article more general but to still add some of the flavor of my personal experience along the journey. I hope you have enjoyed it.