How a focus on sustainability will help the fashion industry emerge stronger from Covid-19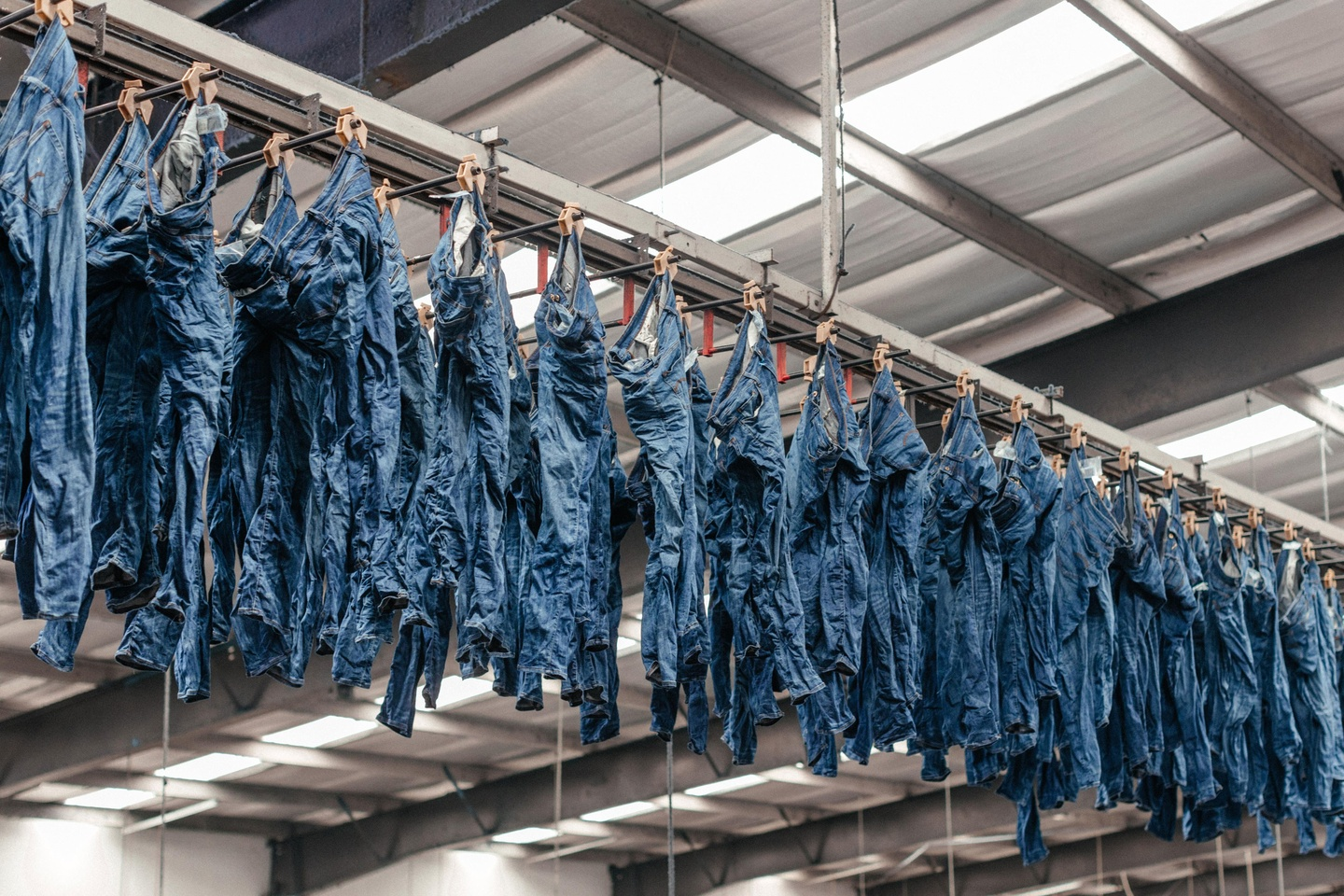 Some companies are cutting social and environmental programmes as consumer spending plunges. A new report shows why this isn't wise.
Denim manufacturer Saitex's jeans are 85 per cent air-dried, saving electricity. Image: Saitex International
Tempting as it may be for an industry reeling from global pandemic lockdowns, fashion companies should not shelve their sustainability investments, but should instead protect the human capital and relationships in their supply chains and maintain key social and environmental programmes.
This was the call made by the Boston Consulting Group, Sustainable Apparel Coalition and technology company Higg Co in a recent report, Weaving a better future: Rebuilding a more sustainable fashion industry after Covid-19 .
By the numbers: The impacts of fast fashion
In the short term, fashion companies should avoid cancelling completed orders to prevent factory closures and impacts to workers, the authors said.
They should engage in collaborative dialogue with suppliers on how to address issues such as the plunge in consumer spending, and preserve cash and liquidity. On the social and environmental front, companies can focus on fewer core activities and prioritise workforce protection, health and safety, and keep collecting social and environmental data, the report said.
"What prompted the report were many questions from fashion companies evaluating what to do about the future of their sustainability programmes as the negative financial impacts from Covid-19 began moving through the industry," Higg Co's chief executive Jason Kibbey told Eco-Business.
Some were considering cutting sustainability programmes.
But those that will weather the crisis better than their peers, are the ones maintaining their commitments, said Kibbey, whose company implements and supports sustainability measurement tools, including the Higg Index, for consumer goods industries. These companies include Swedish giant H&M, United States brand Target and European e-commerce platform Zalando, which announced last week it was expecting double-digit growth in 2020.
Zalando is among the companies that have invested in allowing customers to search for more sustainable products for the past two to three years, Kibbey said. This matched what European online shoppers have been seeking out, as the impacts of Covid-19 have changed consumer behaviour.
That said, the report noted that many industry players including brands, retailers, and manufacturers will not survive this period of low demand because of the cash needed to sustain operations.
In a survey of over 500 manufacturing facilities across main production regions conducted in April, the Sustainable Apparel Coalition and Higg Co found that 86 per cent have been hit by cancelled or suspended orders. As a direct consequence, 40 per cent of them were struggling to pay employees, leading to layoffs and factory closures.
Asia's innovators
News reports in the wake of the Covid-19 pandemic have highlighted the precarious plight of Asian garment workers in Bangladesh, Cambodia and Indonesia.
But some Asian manufacturers such as Saitex International in Vietnam and Hong Kong-headquartered TAL Group are driving sustainability innovation, Kibbey noted.
"Many of the innovations in fabric, or reductions in energy use, or new ways of making clothing will be emerging from Asia, which often doesn't get credit for its critical role in the sustainability ecosystem," he said.
B Corp and Fair Trade-certified Saitex has been dubbed by one of its clients, clothing retailer Everlane, as the "world's cleanest denim factory".
As 98 per cent of water used in making its jeans is recycled, Saitex uses only 1.5 litres of water per pair, far lower than the industry standard of 80 litres. Instead of relying on dryers, its jeans are 85 per cent-air dried, saving electricity. And during the wastewater treatment process, sludge is extracted to be mixed with concrete for bricks, ensuring it no longer leaches into the environment.
Saitex's spokesperson told Eco-Business that the impact of Covid-19 has been "deep". Overall business is down by 25 per cent and the company has had to lay off about 12 per cent of its workforce of over 4,000 due to order cancellations, delayed payments and other challenges.
Rekut is Saitex's social enterprise platform for the differently abled to receive training and support for a job and stable income. Image: Saitex International
But the current pandemic is a "short term" phenomenon, she said. "Our business model is built on long-term value creation, hence we have continued with our circularity strategy that includes carbon neutrality and inclusivity as two big goals."
An upcoming seven-megawatt solar plant will allow its facilities in Dong Nai, outside Ho Chi Minh City, to run 40 per cent on solar power. Another 40 per cent is supplied by hydropower.
Saitex aims to be carbon neutral by 2023 and have a-fifth of its workforce comprising differently abled people by then. It recently launched its Rekut factory, a social enterprise run by 35 young adults with disabilities that is focused on making apparel, home textiles and face masks.
Beyond the short term
In the medium term, the report advised fashion industry players to re-evaluate decisions taken under duress, such as furlough and cost-saving measures. They should show they are meeting obligations to their supply chains and find responsible solutions to manage current stock and plan for upcoming seasons.
And in the longer term, companies should develop new business models and social, environmental and digital approaches, as well as boost transparency.
"Technologies such as pollution sensors, real-time energy monitoring and reporting, digitised and standardised social audits, and phone-based worker surveys allow for new ways of measuring, managing, and reporting sustainability," the authors said.
"Given the importance of provenance and handling materials during the pandemic, more companies will look at traceability and full lifecycle assessments as areas for investment."
On the consumer side, new business models in rental, resale, and sharing will help fashion brands serve new customer needs while improving the environmental impact of the industry.
Besides generating 8 to 10 per cent of global carbon-dioxide emissions, the fashion industry is a major consumer of water, guzzling 79 trillion litres a year, according to a recent article in the scientific journal Nature Reviews Earth and Environment. It is also a major source of industrial water pollution and ocean microplastics pollution.