111 The One with Eric Russo, CWT - Scaling UP! H2O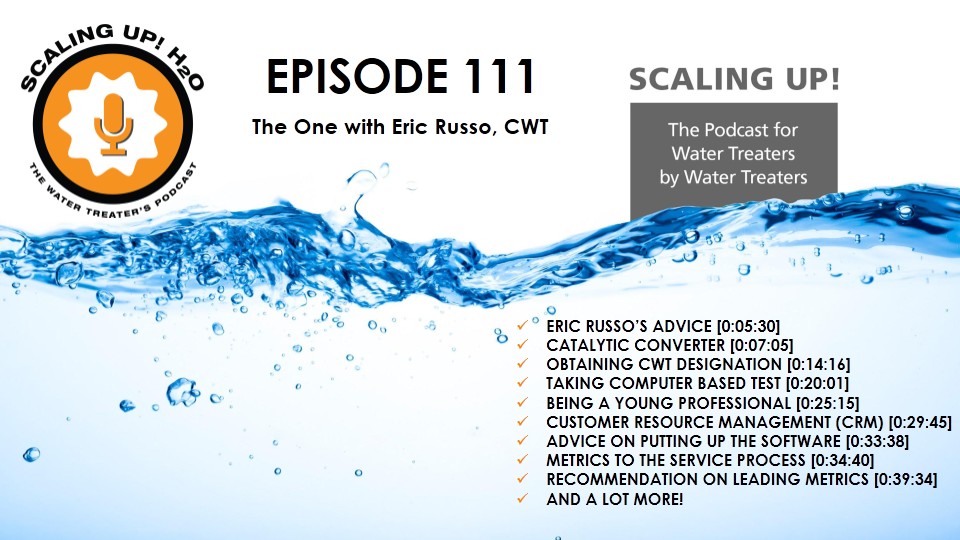 I am sure I have shared with the Nation! before that I love hearing from people who listen to the Scaling UP! H2O podcast.
At last year's AWT Convention and Expo, I met Eric Russo. Eric told me that he absolutely loved the Scaling UP! H2O podcast. He went on to say it was the perfect format for a water treater because we drive so much. What else are you going to do during "windshield" time?
Eric graciously shared with me some ideas he had about guests and topics. We also started to get to know each other during that encounter. So, I invited him to come on Scaling UP! H2O. You will soon learn why I am so impressed with Eric.
Join me as I interview, Eric Russo, CWT.
More about Eric Russo:
Eric Russo is the New England Area Manager for Suez. He has been working in the water treatment industry since 2012 after earning a BS in Chemical Engineering. Eric obtained his Certified Water Technologist designation in 2017 and most recently completed his MBA in Marketing in 2018. He takes a process-oriented view of how value is delivered to the customer and continuously improves upon internal systems to consistently and more efficiently achieve the desired result. Eric has worked with teams to design and implement a company-wide cloud-based CRM/ERP solution.
Key Points From This Episode:
Eric Russo's Advice [0:05:30]
Catalytic Converter [0:07:05]
Obtaining CWT Designation [0:14:16]
Taking a Computer Based Test [0:20:01]
Being A Young Professional [0:25:15]
Customer Resource Management (CRM) [0:29:45]
Advice On Putting Up The Software [0:33:38]
Metrics To The Service Process [0:34:40]
Recommendation On Leading Metrics [0:39:34]
And A Lot More!
Tweetables:
"Don't only focus on efficiency, but also factor and effectiveness." – Eric Russo @traceblackmore #scalinguph2o #scalingup #scalinguppodcast #scalingupnation #TheOnewithEricRussoCWT #CWT #ASHRAE #AWT #ScalingUPandbeyond
Links Mentioned On This Episode:
Million Dollar Maverick by Alan Weiss
The Advantage by Patrick M. Lencioni
The E-Myth Revisited: Why Most Small Businesses Don't Work and What to Do About It by Michael E. Gerber
Good to Great: Why Some Companies Make the Leap and Others Don't by Jim Collins
The 10X Rule: The Only Difference Between Success and Failure by Grant Cardone
The Checklist Manifesto: How to Get Things Right by Atul Gawande
102 The Other One with Colin Frayne, CWT
101 The One with Colin Frayne, CWT